Code: 12143 - Price: 970.000€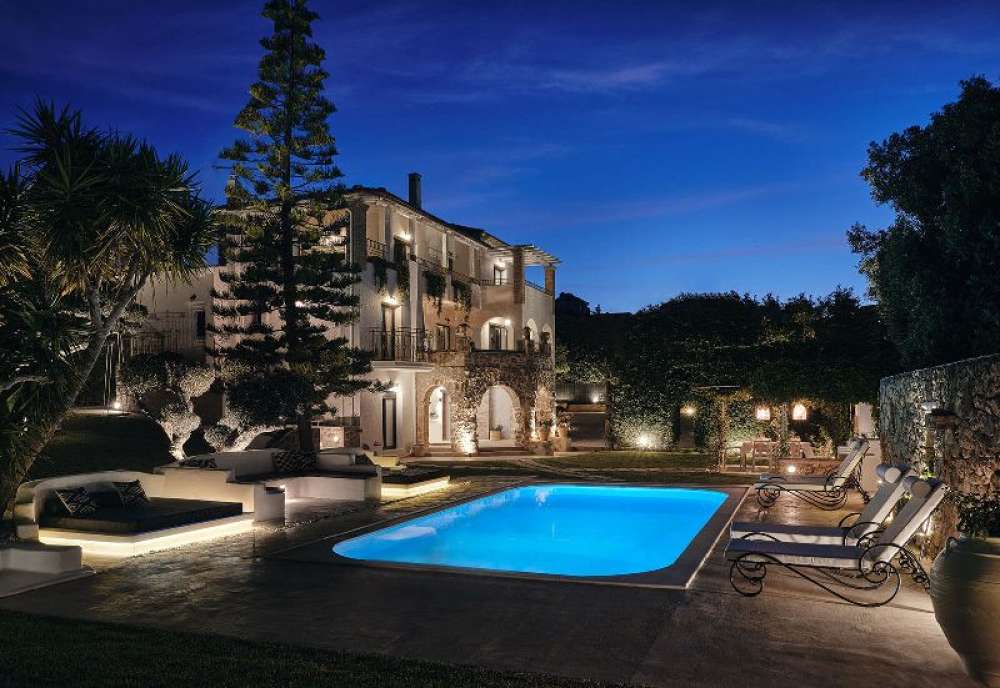 Years: 0
Bedrooms: 0
Bathrooms: 0
Covered area: 400m²
Total area: 1587m²
Distance from sea: 600m
Garage: 3
Pool area:


BBQ area:


Fireplace:


Gazebo:


Lock up garage:


Central Heating:


Air Condition:


Elevator:


This villa is located at a very picturesque location on a hill near Zante Town, with a panoramic view to the Ionian Sea, Kephalonia, Peloponisos and the mainland Greece. Construction was competed in May 2003. The villa's imposing yet elegant silhouette is in total harmony with the surrounding environment, combining elements both from the Heptanesian and classical architecture. Including many architectural features from the old mansions of Zakynthos, the villa has been constructed with the best materials, with careful attention to detail and a unique combination of colours, style and design.
It is located 2.5 km away from Zante Town, 500 m from the sea and about 5 km from the island's airport. It's next to the "Hill of Strani" where Greece's National Poet, Dionissios Solomos, wrote the National Anthem. The old Venetian Castle of Zakynthos is about 1 km away. The building plot's area is 1587 sq. m. It is located within a residential area. The villa is a total of 435 sq. m. and comprises of a comprises a ground floor, first and second floors. The ground floor The main entrance to the Villa forms the central feature of a traditional loft with arches and azure coloured decorations. The entrance (through a double, specially treated massive hardwood door) leads to the hall, made of chiselled stone, with stone benches and a wooden ceiling with discreet lighting fixtures (see photos). On the left side of the hall there is a wooden, traditional type door, leading to a large garden tool - swimming pool accessory etc. storage space that also houses the central heating equipment (oil tank, burner etc.), a water pump, and a computer controlled garden watering system. Further along the hallway, another wooden door on the right leads to the large garage that can also be used as an auxilliary storage space. The garage communicates with the villa's cellar through a double wooden traditional type door. Additionally, there is access to the cellar through a stairway to the kitchen. At the end of the hallway, on the right there is the main stairway, of a unique design, that leads to the first floor. All the steps are made with specially treated Bulgarian stone, of the Byzantine style and a thickness of 6 cm (2 1/2 in.). The walls along the stairway are made of irregularly shaped stone with protruding decorative pieces of wood. There is also an old big mirror embedded into the wall, discreet lighting and various other decorations. The handrail is made of solid wrought iron with decorations made of blown glass, which match those used at the balcony railings. The first floor The main stairway leads to the first floor's hallway. A double neoclassical style wooden door with glass panels leads to the living-room (100 sq.m.), with an imposing fireplace of a special design. There is also a venetian style oakwood piece of furniture which is embedded in the wall and a spacious veranda with a view to the sea. On the left side of the living room (looking at the sea) there is a step made of stone leading to the dining room through a stone adit. The dining room has a very fine fishbone-pattern wooden floor, wonderful colours and big windows offering the most lovely view. There is a connection to the kitchen through a double wooden door. The kitchen is completely hand-constructed, with massive oakwood panels, carved cherry tree columns, a workbench made of cherry and chestnut tree wood, with top quality german-made hinge joints, bronze knobs with hand made decorations and italian oval-shaped porcelain caps. There is also a very beautiful safety door made of PVC, in a traditional-style design, leading to the back-side kitchen veranda and the backyard of the villa. On the first floor there is also a guest-room with a separate bathroom (30 sq. m.) and a balcony with a view to the sea, a guests' WC with a round-shaped hand-made iron washstand with a stone bowl, also an iron sun-shaped mirror. The faucets are made of bronze and the bowl of porcelain and wood. There is a wooden ceiling and a small storage space. The second floor The main stairway also leads to the second floor. There is a hallway leading to the main bedroom (45 sq. m.) through a door on the right. In the bedroom there is a large wooden hand-made wardrobe with bronze knobs capped with italian porcelain. The wardrobe has separate spaces for men's and women's clothes, with a double door at each side. There is a large french window with an amazing view to the sea. The main bedroom has a separate 10 sq.m. bathroom, with a wooden hardwood venetian style piece of furniture, drawers and closets with bronze handles, a porcelain washstand, bronze faucets, a wide neoclassic-style mirror with bronze and crystal sconces on each side, and a sea-shell shaped bathtub with bronze faucets, facing a big window with a nice view. On the second floor there are also two large bedrooms (about 25 sq. m. each). One of them has a balcony with a view to the sea and the other one to the backyard. The two bedrooms share a large bathroom with lively, pleasant colours. The entire floor surface on the second floor, both in the rooms and the hallway, is made of specially treated wood. All rooms have air-conditioning Other features and exterior spaces
The villa has been equipped with an advanced alarm system, and there is Internet connectivity in every room, both conventional and satellite TV antenna installations, independent heating facilities for each floor, electric water boiler and a 40 cu.m. water tank. The premises are surrounded by a traditionally styled stone wall with an electronically - remotely controlled and surveyed gate system. The gate is of very strong construction (6.5 m), made of iron, wood and bronze (see photo). The garden is multi-leveled, mostly grass lawn with automatic watering system controlled by special computer. There are beautiful spots decorated with stone, flower-beds, and various other decorative constructions in the garden. Also, there are paths made of Albanian stone, many trees (pine-trees, weeping willows, laurels, olive-trees, orange and lemon trees, fig-trees, peach-trees etc.), and several water taps along the perimeter of the garden.

The garden is artfully completed by the large (32 sq.m.) pool with Karystos stone decking, power supply outlets (for TV sets, BBQs etc.), a garden furniture made of banana-tree wood consisting of a two seat sofa, two armchairs, a table and an umbrella with two sunbeds. Right next to the swimming pool there is a shower. There is also a large parking space by the villa's entrance. Technical specifications available upon request Zakynthos is a part of the Ionian Islands Region that comprises the prefectures of Corfu, Lefkas, Kephalonia and Zakynthos, with Corfu as a capital, located at the south-western part of Greece, near the north-western coast of Peloponnese. It is 8.5 nautical miles from Kephalonia, 9.5 miles from Peloponnese and about 300 km from Athens. It is the second prefecture in population and the third in geographic area. It is a multi-cultural island of golden beaches (123 km of coastline) and cosmopolitan resorts, traditional villages and sweet serenades, which instantly captures the imagination of all the visitors. Old buildings and narrow streets, ancient churches and lively squares, a modern town with many historical sights – these are only a few of the reasons why many thousands of tourists visit the island every year, making it one of the most rapidly developing tourist resorts in Greece. The island is full of natural contrasts. The northern and western part of the island is mountainous, but the eastern part is dominated by plains. The highest mountain is Vrahionas (758 meters a.s.l.) that extends along the centerline of the island. The mountainous terrain is mostly rocky and the most common tree is the pine-tree. The eastern part of the island forms a big, fertile valley. There are numerous sandy beaches at the eastern part, while the western part is mountainous and there are high cliffs hanging above the sea. There are no rivers on the island. The climate is mild, of the mediterranean type (a lot of rainfall and sunny days). The winds are mostly south-western, western and north-western. The flora and fauna of the island include a great number of species. The frequent rains give birth to the lush vegetation that covers the island. The island is in the way of many migrating birds, like the turtle-dove (Streptopelia turtur) . The southern coastline of the island is under the supervision of the Greek National Marine Park, as it is the breeding place for the rare Caretta-caretta sea turtles. The Monahus-monahus seal lives at the western coast of the island. Zakynthos is rich in tradition, as the island has been a crossroads for civilisations for many centuries. Many forms of art have flourished and still flourish, namely the theater, poetry, painting and music. Selling price: 970.000 €