Code: 11026 - Price: 1.600.000€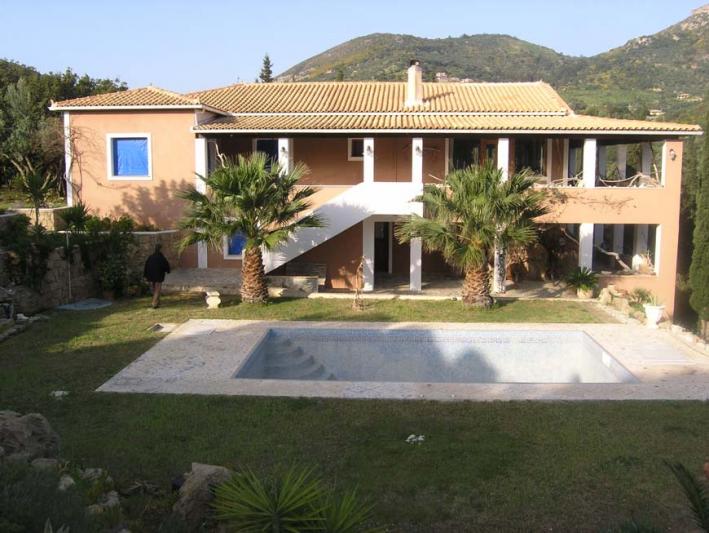 Energy Class: Ε
Years: 2000
Bedrooms: 6
Bathrooms: 6
Covered area: 380m²
Total area: 11000m²
Distance from sea: 0m
Garage: 4
Pool area:


BBQ area:


Fireplace:


Gazebo:


Lock up garage:


Central Heating:


Air Condition:


Elevator:


You can't find a better part for relaxation in perfect isolation and absolute luxury from this Zakynthian villa. With the bigger swimming-pool that you have seen and astonishing view, you can fill your horizon with light blue and green. As soon as you relax, you can go down in the private creek. The villa is found roughly 10klm by the town of Zakynthos, in isolated point, ideal for those that want to escape from the everyday routine. Exist two beaches - creeks with sand very near the house. The one is 100m from the entry of plot, while the other abstains roughly 2 thinly with the legs because the sea wets the plot of 11.000 m2. The manufacture of villa was completed in 2000 and has extensive panoramic view of crystal waters of Ionian. Internal spaces Maisonette 380 m2: Following traditional architecture, the main space of villa allocates big lounge and dining room, 1 main cooker and 1 auxiliary, 6 bedrooms with the personal bathroom and wardrobe each. Outside exists protected dining room. Price of sale 1.600.000 Euros.